1. SSC Ultimate Aero: 257 mph, 0-60 in 2.7 secs. Twin-Turbo V8 Engine with 1183 hp, base price is $654,400. Tested in March 2007 by Guinness world records, The SSC Ultimate Aero takes the lead as the fastest car in the world beating Bugatti Veyron.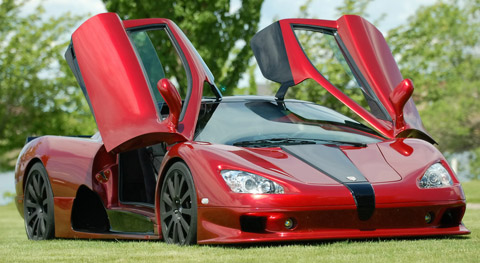 2. Bugatti Veyron: 253 mph, 0-60 in 2.5 secs. Aluminum, Narrow Angle W16 Engine with 1001 hp, base price is $1,700,000. With the highest price tag, no wonder this is rank #2.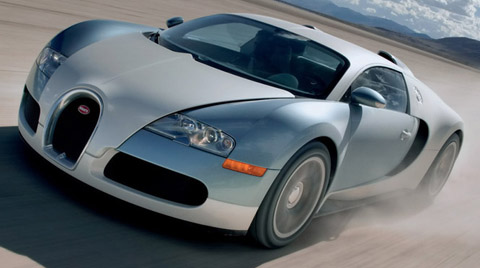 3. Saleen S7 Twin-Turbo: 248 mph, 0-60 in 3.2 secs. Twin Turbo All Aluminum V8 Engine with 750 hp, base price is $555,000. Smooth and bad-ass, will make you want to show it off non-stop.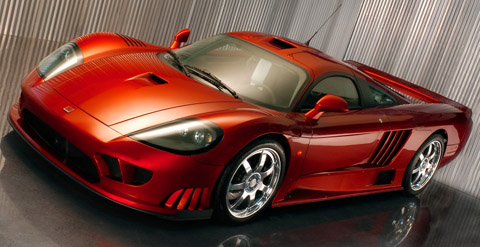 4. Koenigsegg CCX: 245 mph, 0-60 in 3.2 secs. 90 Degree V8 Engine 806 hp, base price is $545,568. Made in Sweden, it is aiming hard to be the fastest car in the world, but it has a long way to go to surpass the Bugatti and the Ultimate Aero.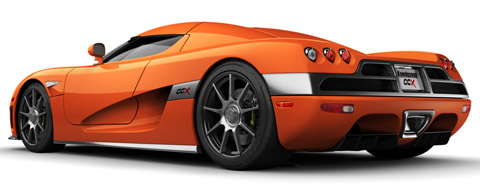 5. McLaren F1: 240 mph, 0-60 in 3.2 secs. BMW S70/2 60 Degree V12 Engine with 627 hp, base price is $970,000. Check out the doors, they looks like bat wings, maybe Batman need to order one and paints it black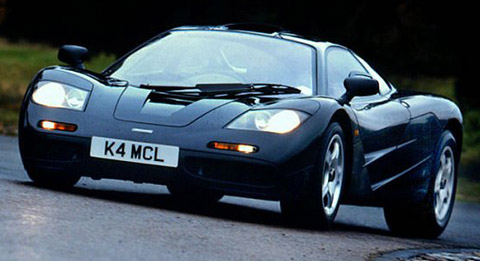 6. Ferrari Enzo: 217 mph, 0-60 in 3.4 secs. F140 Aluminum V12 Engine with 660 hp, base price is $670,000. Only 399 ever produced, the price goes up every time someone crashes.
7. Jaguar XJ220: 217 mph, 0-60 in 3.8 secs. Twin Turbo V6 Engine with 542 hp, base price was $650,000. Made in 1992, this car still got what it takes to make the list.

8. Pagani Zonda F: 215 mph, 0-60 in 3.5 secs. Mercedes Benz M180 V12 Engine with 650 hp, base price is $667,321. With a V12 motor, this baby can do much better.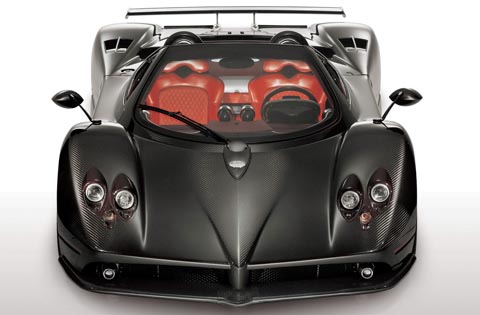 9. Lamborghini Murcielago LP640: 211 mph, 0-60 in 3.3 secs. V12 Engine with 640 hp, base price is $430,000. Nice piece of art, the design is very round and smooth.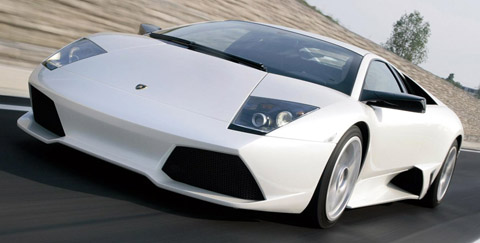 10. Porsche Carrera GT: 205 mph, 0-60 in 3.9 secs. Aluminum, 68 Degree, Water Cooled V10 Engine with 612 hp, base price is $440,000. The most powerful and most expensive Porsche nearly made the list as #10.

---
---
---
---
10 World's Fastest Cars
Supercars and high speed are a part of every car enthusiast's fantasy. They are like endangered species rare enough to keep attracting our attention over and over again and never let us get bored with them. But, which ones are the fastest ones? What method should be used to classify their performances?
The top speed is one of the constant measurements, but most companies are not able to provide such data with absolute certainty, since it is hard to reach conditions for the maximum speed of the car to be measured. Other important elements are acceleration of up to 100 or 200 km/h, time needed for one kilometer or a quarter of a mile drive, etc.

Still, the best speed test proved to be the time needed for a car to accelerate from the standing start to 100 miles per hour (160km/h), and then to stop immediately. Such measurement enables an ideal ratio of necessary performance which characterizes a car as the fastest one.

To cut the long story short, here are the 10 fastest cars:

10. Lamborghini Gallardo 13.65 secs


Click to enlarge

In the 0-100-0 mph race Lamborghini Gallardo is faster than its bigger and stronger brother by three hundredths of a second, primarily because of its lower weight. Gallardo is powered by 5.0 liter V10 engine which provides 520 hp, which scorches it from 0 to 60 mph in 4 seconds.

9. Porsche 911 Turbo 12.5 secs


Click to enlarge

Thanks to its sophisticated integral drive which limits wheel sliding, new 'turbo' successfully transfers its 480 hp to the ground and proves that power is not the most important.

8. Caterham CSR260 11.95 secs


Click to enlarge

British Caterham has always been known as one of the fastest cars in the world (0-60 mph in 3 seconds). It is not surprising since its mass and power ratio wouldn't put super sports motorcycle to shame. CSR 260 is powered by a 2.3 liter engine which provides 250 hp and weighs 555 kilograms which is approximately 0.5 hp per kilogram.

7. Pagani Zonda 11.8 secs


Click to enlarge

An Italian with a German heart is one of the most extravagant supercars of a mass production. Its Mercedes AMG 7.3 liter V12 engine provides 555 hp, sufficient to accelerate from standing start to 60 mph in 3.4 seconds and develop maximum speed of 220 mph.

6. Porshe Carrera GT 11.6 secs


Click to enlarge

The strongest mass production Porsche of all times with the centrally positioned 5.7 liter V10 engine is one of the technologically most advanced GT cars ever made. The car is almost completely made out of carbon fibers and composite materials, and after 1,270 cars were soled recently it became one of the most successful super cars of all times.

5. McLaren F1 LM 11.5 secs


Click to enlarge

A car created for only one reason – to be the fastest one. The uncompromising creation process provided it such title for ten years during which it remained unbeatable by the competition. Its BMW gold-plated V12 engine (for better cooling) provides 627 horsepower. The maximum measured speed is 240 mph.

4. Ferrari Enzo 10.9 secs


Click to enlarge

The fastest Ferrari of all times was named after the founder of a legendary Italian manufacturer. Until recently the fastest car in the world was first beaten by the legendary McLaren F1 in all categories from acceleration to maximum speed. Only 399 Ferrari Enzos were produced.

3. Ariel Atom 10.88 secs


Click to enlarge

For the price of one Carrera GT you can buy a dozen of this auto brand. Atom is manufactured by a small British company from Somerset with only about ten employees. Its Honda engine, taken over from Civic Type-R, is supplemented by mechanical supercharger which provides 300 hp. Having in mind that Atom weighs only 456 kilograms, its acceleration from 0 to 60 mph in 2.9 seconds is not surprising.

2. Bugatti Veyron 16.4 9.9 secs


Click to enlarge

A car which redefined the terms used to describe supercars. While its competitors have narrow, noisy and too heated interiors, Veyron provides comfort and enjoyment to two passengers, characteristic of the most luxurious limousines. Veyron weighs almost two tons, which makes it the heaviest car on the 10 fastest cars list. Still, its weight does not prevent it from giving 0-100-0 mph a time of less than 10 seconds with the maximum speed of 253 mph, which is why until recently it was the fastest car in the world. It is all because of its sophisticated integral drive and unique W16 engine which provides 1001 horsepower.

1. Ultima GTR 9.4 secs


Click to enlarge

Less than a two months ago a small British car company represented its version of ultimate race car for the road drive based on Chevrolet V8 engine which provides 730 hp and entered the Guinness Book of World Records beating the Veyron's time by five hundredths of a second. 720 GTR scorches from 0 to 60 mph in 2.6 seconds, from 0 to 100 mph in 5.3 seconds, and brakes to 0 in 3.6 seconds (not including drivers reaction time). No traction control devices or ABS braking aids were used.